Election Day Week is finally ending! On Saturday, Joe Biden won the 2020 U.S. presidential election according to the Associated Press, CNN, The New York Times, BBC, CBS, Fox News, and NBC News, securing his spot as the next president of the United States.
He and his running mate Kamala Harris will be sworn into office as president and vice president on Inauguration Day (January 20, 2021) once the Electoral College casts and counts its ballots in the coming month.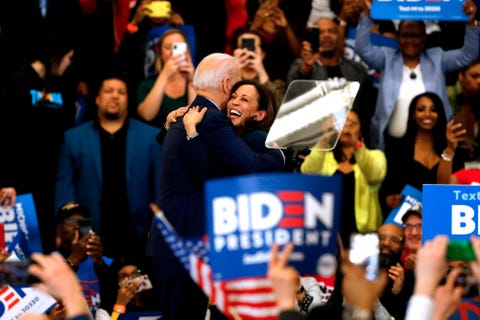 By securing this win with Pennsylvania, Biden has defeated incumbent Donald Trump. On Wednesday, Biden gave a speech about where we go from here as a nation.
"We've faced hard times before. So once this election is finalized and behind us, it will be time to for us to do what we've always done as Americans: to put the harsh rhetoric of the campaign behind us, to lower the temperature, to see each other again, to listen to one another, to hear each other again," Biden said.
"To unite, to heal, to come together as a nation. I know this won't be easy. I'm not naive, neither of us are," Biden said, with Harris looking on. "But I know this as well: To make progress, we have to stop treating our opponents as enemies. We are not enemies."
The 2020 electoral process has been draining for everyone. There are still a couple months before Biden and Harris are officially sworn in, but election stress is a real thing and having a victor doesn't make that magically go away. No matter how you feel about the results of the elections in your area, take care of yourself as best as you can. For resources on how to do that, check out these tips:
Source: Read Full Article